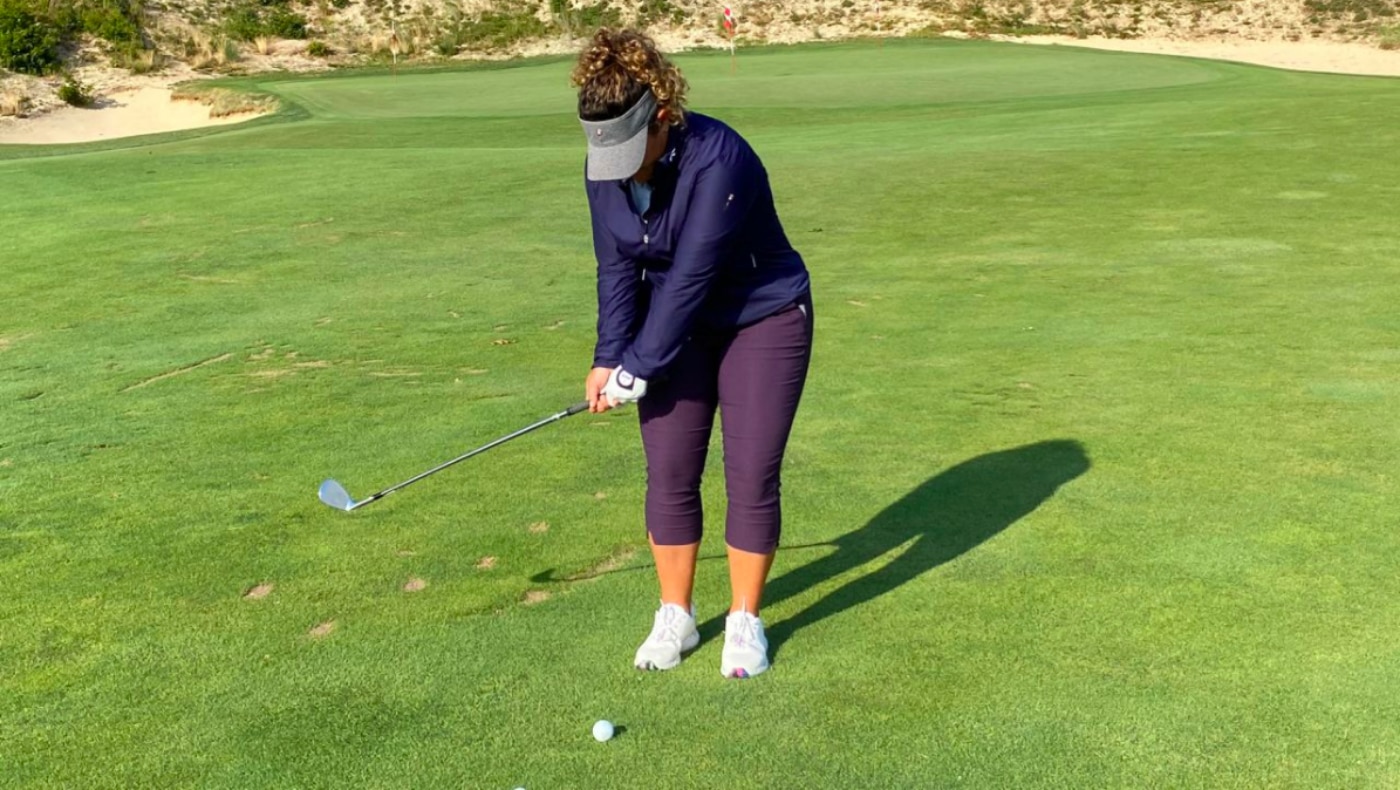 123 ... 123 ... 123...
She counted every stroke and played every shot as if it were the U.S. Open, but 123 was a long, long way back from the leaders. Fifteen-year-old Becky (Lucidi) McDaid knew she would do better next year. She had only been playing golf for one year—on the boys' team—there was no girls team at her school. This was her first entry into the California girls high school championship. A 123 hurt. Many would have quit, but not Becky.
Becky grew up as the youngest of four children. Along with her three older brothers, she played many sports, and at age 14 she picked up golf. Money for an expensive sport wasn't readily available, let alone college tuition for a fourth child. Luckily, the local executive golf course was willing to do a trade for golf and lessons for food from the restaurant…and Title IX gave girls all over America a chance at a college scholarship.
Her instructor taught her to swing hard and compress the ball. Smash down on it. Make hard contact in an effort to keep up with the boys on her high school team and because she played from the same back tees as them. Even as a teenage girl, the ball exploded off her the club face with a low boring trajectory. It is her signature swing still today.
Year two. Time to face the beast. Remembering her 123, she reentered the California State Championship. In only her second year playing, she beat her prior score by 47 strokes by shooting a tidy 76.
In her third year of playing, she placed in the top 3 with a one under 71. She improved that the following year and scored a 70 and went home as runner-up in her senior year. Hard work. Relentless practice. Eye set firmly on the prize. It all paid off.
Mostly.
Because she had started playing so late, she missed the college recruiting scene and accepted a full scholarship to the only team that offered her one – the University of New Mexico. After two years, she knew she wanted to be closer to her home and family in San Diego and wanted to be part of a team with the same competitiveness and drive as she had.
When she transferred to USC she had to walk on with no scholarship, and USC only accepted one academic credit in the transfer. She approached this set of challenges as she always had. Hard work. She completed her entire college education in three years. She redshirted then played two years on the team. All American. NCAA champion.
Then came the pinnacle: US Women's AMATEUR CHAMPION in 2002 at renowned Sleepy Hollow, followed by winning the Mexican Amateur Championship and making it to the rounds of sweet 16 in both the U.S. Amateur and U.S. Women's Amateur Public Links in the summer of 2003.
What followed was a brief few-year career on the LPGA tour, largely hampered by a heart condition that had gradually progressed during her young adulthood. Her boyfriend, and soon-to-be husband, Adam caddied for her and handled all transportation and logistics
Then the chance to move to Long Island came. Friar's Head, with Adam as the long serving Director of Golf. Another pinnacle. World Class Golf Course. Amazing golf shop and teaching facility. While at it all, Becky and Adam have raised a family, and she has won multiple Met section championships. Any time the women tee it up in the New York area, look near the top of the leader board for the name McDaid.
Becky, you inspire us.
Sincerely, Your KJUS Family